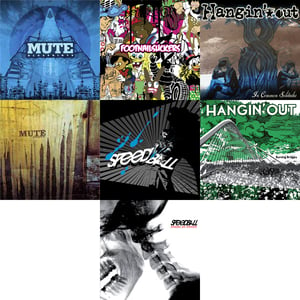 €

10.00 - On Sale
Choose between these 5 packages :
- Get all 3 records from the french ska-punk band Oz One at a reduced price !
Think of Mad Caddies and Reel Big Fish. An amazing voice and catchy melodies. Includes guest appearances by members of Madness, The Ruts and Reel Big Fish !
Listen to songs here.
- The first 2 Mute CDs, one of the best melodic punkrock bands of the moment !
Listen to songs here.
- Get both EPs from the french punk-hardcore band Speedball at a reduced price. And you get for free the CD from the singer's first band : Footnailsuckers !
Music which comes from the heart and meant to be listened with the heart : this is what Speedball's music is all about. Some genuine and dynamic modern hardcore with catchy tunes and subtle melodies, the perfect mix between hardcore and melody ! Both CDS have been recorded and mixed by the mighty Christian Carvin.
Listen to songs here.
- Hangin' Out are back with a brand new 8-tracks EP and still deliver their tight melodic hardcore, but with a much better production. Fans of Rise Against should love it. The singer really has one of the best voices in the punk/hardcore scene.
This promo pack comes with their first album released a few years ago.
Listen to some songs here and there.
- The first EP "copy paste & repeat" and the first album "Forbidden War" of the belgian band Sixtoys ! melodic punkrock at their debut, which evolved into a more mature sound with post hardcore and metal elements